South Island operators get on board with PBN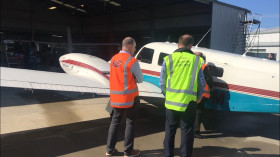 A large number of South Island operators have literally got on board with PBN this week, getting to see how the system works from the cockpit of a PBN-equipped aircraft.
Ridge Air chief pilot Ross McCullum and one of his company's aircraft are the star attractions of the PBN Expo which wraps up its South Island leg at Southern Wings Flying School in Invercargill.
The expo, initiated and supported by the New Southern Sky team, has sparked lively discussions among operators about how to obtain PBN approval, how to develop Standard Operating Procedures (SOPs), and the PBN installation process. And they've got to see how the system feels and works first-hand in an aircraft.
From 2023 PBN will be the primary means of navigation for Instrument Flight Rules (IFR) operations in New Zealand, moving away from conventional ground-based to satellite-based navigation.
PBN isn't just about the type of the navigation equipment, but rather how well the whole system performs. To fly PBN under IFR, operators will require a PBN operational approval. This will ensure aircraft meet certain airworthiness, continued airworthiness, and flight operations requirements for particular PBN operations.
Subscribe to the CAA notification service to receive the latest updates, or visit https://www.nss.govt.nz/workstreams/navigation/
21 Nov 2018