The known environmental impact
The environmental impact of aviation often focuses on those immediately obvious to the public; the most obvious being carbon emissions and its links to climate change. However, according to the International Air Transport Association (IATA), air transport accounts for only 2% of global man-made CO2 emissions annually. The issue here is the demand for air transport is ever increasing and the issue of climate change and industry carbon footprints continues to be a decisive and controversial globally.
The global response
In response to this, in October 2016 at the 39th ICAO Assembly in Montréal, member states delivered an historic agreement on a new global market-based measure (GMBM) to offset CO2 emissions from international flights and a comprehensive road map for the sustainable future of international aviation. A significant step to wards curbing emissions from the global aviation industry. These targets can be summarised as:
A cap on net aviation CO2 emissions from 2020 (carbon-neutral growth)
A reduction in net aviation CO2 emissions of 50% by 2050, relative to 2005 levels
The following graph sourced from the 2016 ICAO Environmental Report illustrates the future path to achieving this reduction.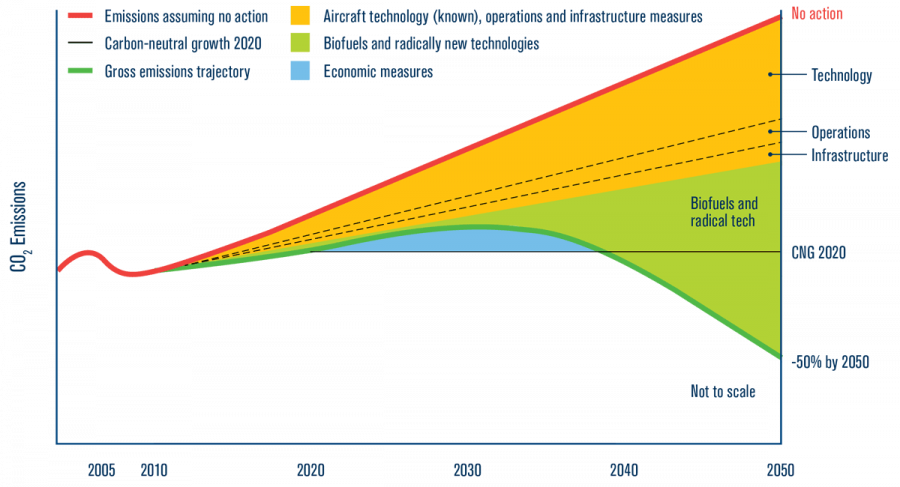 In order to achieve these targets, a strong commitment is required from all stakeholders working together through the four pillars of the aviation industry strategy:
Improved technology, including the deployment of sustainable low-carbon fuels
More efficient aircraft operations
Infrastructure improvements, including modernized air traffic management systems
A single global market-based measure, to fill the remaining emissions gap
More information about this can be viewed here Air Transport Action Group - Facts and Figures.

The 2016 ICAO environmental report can be accessed here. Please note this is quite a large document (48MB) and will take some time to load completely.
So what does this mean for New Zealand and how will this be achieved?
Much of the change to be delivered by the New Southern Sky Programme will enable New Zealand's aviation industry to begin striving for these ambitious targets. The environmental benefits as a result of the introduction of performance based navigation (PBN) are a starting point for the industry, along with technological advances in fuel efficient engines through design.
While technology advances will continue to play its part, initial environmental benefits will be gained through the introduction of PBN procedures and the fuel savings that result. Shorter and more direct flight paths, coupled with increased accessibility, particularly in marginal weather reduces the fuel burn. This is particularly so with regard to diversions.
Reduced fuel burn = reduced carbon emissions.
The Queenstown Example
Looking at the Queenstown airport example, the advent of PBN has enabled airlines to reduce CO2 emissions by improving the accessibility of the airport in adverse weather conditions. This is achieved by Required Navigation Performance Authorisation Required (RNP AR) approaches into Queenstown enabling flights to operate with a lower cloud base, reducing the number of diversions, particularly in winter. For airlines operating into Queenstown, this has two effects:
Avoided cost: The airline avoids the costs of diverting a flight, including repositioning the aircraft and crew to regain their schedule, and transporting passengers to the correct destination.
Growth: An increase in patronage and passenger appeal through delivering a more reliable service. Airlines can increase the winter schedule with more confidence of the ability to operate.
There is a clear reduction of jet diversions from Queenstown following the introduction of reduced RNP AR minima.